For companies
Fishmemo is an approved professional system for electronic handling and submission of catch reports to the norwegian Directorate of Fisheries.
Fishmemo is easy to use and gives you the tools needed to submit all your reports, you can even leave the reporting to a guest or an employee for any period of time.
One licence covers up to 25 boats, unlimitied guest users and unlimited reports.
READ MORE AND ORDER HERE
For fishing tourists
If you are a guest with a company using Fishmemo, you can handle the catch reports yourself during your stay, by registering a free user here on fishmemo.com.
The guest profile is completely free, and your contact info is only shared with companies of your own choosing.
Sharing a profile with a company allows them to connect you with one of their boats during your stay. This will display the boat in your profile page for easy sending of catch reports during your stay.
Read more about what you need to do to start using Fishmemo below.
How to register in two easy steps
Fill out the registration form with the required fields
Confirm your registration by clicking the confirmation link in the mail sent from Fishmemo
Once you are registered, you are ready to log in and start using fishmemo.com.
When logged in
All options will be available from the top menu once you are logged in.

"Catch reports" is your startpage when you log in, it will give you an overview on everything that has to do with handling the catch reports.
"Privacy settings" is where you allow a company to see your user and connect you with one of their boats.
"User profile" is the information from your registration. We need your email and phone number to communicate with you regarding your assigned boats and your catch reports.
Adjust your visibility
Your first step when starting to use Fishmemo, is to locate the company that you are visiting, and put them on your list of companies allowed to see and use your profile. Simply find your company in the list under "Privacy settings", and share your profile with them

This is what your dashboard will look like when a connection to a company has been made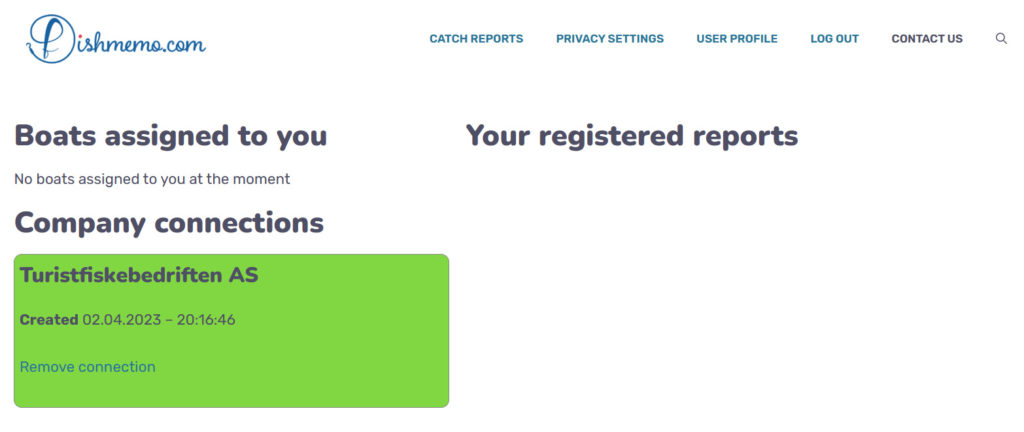 Catch reports
As soon as the company has assigned you with a boat, it will appear in your Fishmemo dashboard, ready for you to send catch reports from the boat.
All reports are sent to the Directorate of Fishery, to the company archive, and to your personal archive.